4 December 2009
Pubblicato il:
Friday, December 04, 2009
da
fior dizucca
-
37 commenti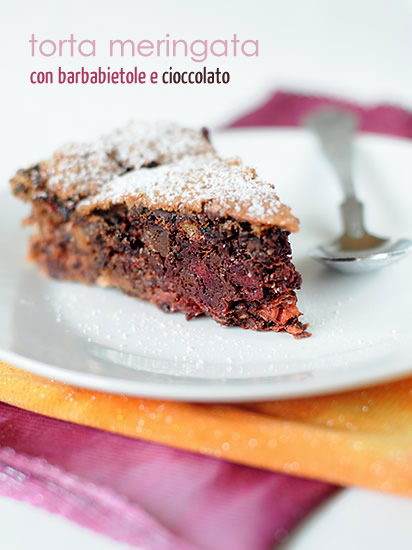 ... o anche detta "torta che non mangerò mai". Se penso che questa è una ricetta che avevo in archivio in lista d'attesa dal 2006, mi vengono i capelli dritti! Ho atteso così tanto per prepararla (e mangiarla) e invece purtroppo ho solo potuto assaggiarne una piccola fetta, il resto ahimè, ho dovuto congelarla, sperando che quando la farò risorgere abbia lo stesso sapore e bontà di una torta appena sfornata! E va beh, piccoli problemi di stomaco mi costringono a stare lontana dalla cucina per un po'. Come si dice, sto poco bene, ma in risalita, come sempre. Ecco, se state meglio di me e se le barbabietole abbinate al cioccolato non vi fanno senso, provate a prepararla voi e a dirmi che ve ne pare!
Ingredienti


8 bianchi d'uovo
200gr di zucchero
25gr di cacao amaro in polvere
60gr di cioccolato fondente
200gr di barbabietole crude
60gr di prugne secche
50gr di pane grattugiato

Sbattete i bianchi d'uovo a neve con un pizzico di sale. Aggiungete lo zucchero gradualmente continuando a sbattere. Incorporate le barbabietole grattugiate, la cioccolata spezzettata finemente, le prugne tagliate grossolanamente e il pane grattugiato. Versate il composto in una teglia a cerniera ed infornate a 120 C per 1 ora e mezza. Fate raffreddare la torta nel forno con lo sportello aperto. Servite decorando con zucchero a velo a piacere.

Sognando:
so
gna
re una
barba corta
indica conquiste effimere; sognare una
barba lunga
indica fortuna negli affari; sognare una
barba bianca
indica precisione nel lavoro.

Parolando:
In molte culture la
barba
rappresenta un vero e proprio elemento di espressione esteriore della dignità virile (come ricordano anche espressioni del tipo "l'onor del mento"). In altre la barba è indice di maturità e invecchiamento, per cui viene regolarmente tagliata. Dal sanscrito
bhar
, portare e, più precisamente, "quello che gli uomini portano sul mento". In botanica si chiamano barbe le ramificazioni terminali di una radice.

Archiviando:
clicca qui
per scaricare questa ricetta in formato .pdf
English please
Beetroot and chocolate meringue cake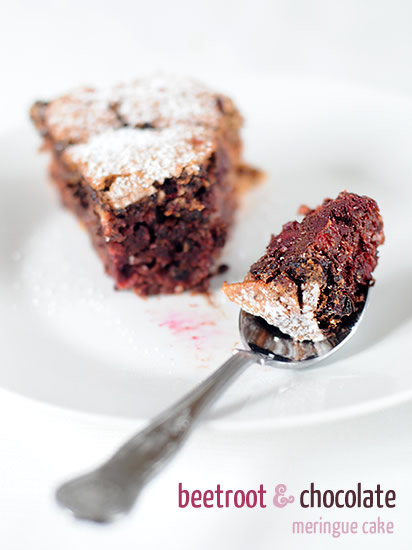 Ingredients


8 egg whites
220gr sugar
25gr cocoa powder
60gr chopped dark chocolate
200gr grated beetroot
60gr prunes
50gr breadcrumbs

In a bowl beat the egg whites with a pinch of salt, until soft peaks form. Add the sugar and keep beating until dissolved. Fold in the cocoa, chopped chocolate, grated beetroot, pruned and breadcrumbs. Spoon the mixture into a oven pan and bake at 120 C for 1 hour and 30 minutes. Cool in the oven with the door slightly opened. Decorate with icing sugar and serve.
Le piu' lette
Oltre a consumarlo sopra i dolci, il vino cotto si può utilizzare anche dentro i dolci. Così la zia Cenzina qualche giorno fa ha prepar...

Ecco un'altra ricetta preparata, sperimentata e decisamente divorata, durante il soggiorno pugliese. I calzoncelli dolci ai ceci con t...

"Obladi Oblada life goes on braaaaaaa, lala how the life goes on!" Avevo detto che avrei postato? Ebbene si, lo dissi. Ma avessi...

Prima la zia, poi a mamma e ora pure la nonna! Va beh, non mia nonna, ma LA nonna, non so di chi, si è inventata questa torta spettacolare...

Tutto é iniziato un anno fa, con qualche spicchio d' aglio sott'olio , che come giustamente ha detto Kat degli Scribacchini, ha po...

Quest'anno ci siamo persino dimenticati del compleanno di Fiordizucca (n.d.r. 24 Luglio 2010). Eppure 5 anni non sono tanti, pratica...

Ce la potevo mai fare a lasciare la macchina fotografica a casa? La risposta ovviamente è no. Non ce l'ho fatta. Ho rinunciato allo sp...

All'insegna del colore ed ispirata al Pride London 2008 , è questa insalata di germe di grano. In realtà quando ho comprato questa con...

Antipasti di Mare - Seafood appetizers Antipasti di Terra - Meat appetizers Stuzzichini - Nibbles Insalate - Salads Drink Alcolici - Alc...

Photo Tour
•
Sagres, Part 2, Portugal
•
Sagres, Part 1, Portugal
•
Lagos, Portugal
•
Portimão, Portugal
•
Crete, Greece
•
St. Patrick's Day, Dublin, Ireland
•
Bettystown, Ireland
•
Capri, Amalfi, Sorrento
•
Marrakech, Morocco
•
Puglia, Italy
•
Eastbourne, East Sussex, U.K.
•
Battersea Park, London
•
Hastings, East Sussex, U.K.
•
Isle of Wight, U.K.
•
Richmond Park, London
•
Venezia, Italy
•
Oxford, U.K.
•
Highgate Cemetery, London
•
Canary Wharf and Greenwich, London
•
Regent's Park, London
•
London Gay Pride 2008
•
The Italian Garden, London
•
Tower Bridge, London
•
Holland Park and Kyoto Gardens, London
•
Urbino, Italy

Published