27 July 2010
Pubblicato il:
Tuesday, July 27, 2010
da
fior dizucca
-
79 commenti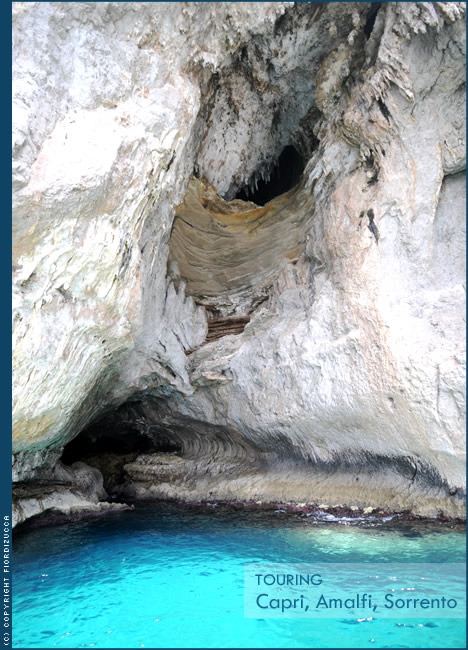 Quest'anno ci siamo persino dimenticati del compleanno di Fiordizucca (n.d.r. 24 Luglio 2010). Eppure 5 anni non sono tanti, praticamente una bambina, ma per la vita di un blog sembrano tantissimi.
Quasi per coincidenza ritorno a scrivere proprio qualche giorno dopo. Un po' senza volerlo e un po' anche volendolo. Per tutti quelli che si sono chiesti che fine ho fatto, direi nessuna fine. Sono sempre dov'ero, lavoro sempre dove lavoravo, mangio sempre quello che mangiavo più altre cose nuove. Semplicemente sono un po' lontana dai fornelli, mi manca l'ispirazione e anche la voglia. ma continuo a viaggiare e a godermi splendidi posti come questi che vedrete nella galleria.
Dopo il Marocco, difficile da dimenticare, ho deciso di tornare a fare una breve vacanza italiana, visitando quei posti che solitamente guardo nelle cartoline, posti unici al mondo che non hanno niente da invidiare ad altre mete più lontane ed esotiche.
Ho sofferto molto il caldo andandoci a giugno, non oso immaginare in Agosto, ma se amate il caldo potete osare.
Per chi avesse voglia, le foto gallerie sono visionabili cliccando sull'immagine in alto, oppure
qui
.
Grazie a tutti quelli che hanno scritto, preoccupati o chiedendomi di ritornare. Per ora questo è tutto quello che ho da dire. Al prossimo viaggio, direi.
Le piu' lette
Oltre a consumarlo sopra i dolci, il vino cotto si può utilizzare anche dentro i dolci. Così la zia Cenzina qualche giorno fa ha prepar...

Ovvero come fare un omelette senza usare le uova. Semplice! Le uova sono uno di quegli ingredienti che ho spesso usato solo per fare dolc...

E' (ri) nata Alice!! Si, proprio così, dopo due settimane di travaglio finalmente Alice è ri-nata (o resuscitata?), non è una grande n...

Questo té é per te, Acilia e per il tuo rientro a casa. Bentornata! Come té nero, ho usato l'Earl Grey sfuso, che mi piace tantissimo...

La mia mini vacanza milanese (ueeee) é trascorsa fin troppo in fretta. Si sa, le cose belle, durano poco. Cinque giorni di in...

"Obladi Oblada life goes on braaaaaaa, lala how the life goes on!" Avevo detto che avrei postato? Ebbene si, lo dissi. Ma avessi...

Ma dov'é finito il tempo? Non si sa. Non ho piú tempo neanche di grattarmi in testa. E si che ho pure tagliato i capelli e dovrebbe e...

Lo scorso anno ha visto protagonista il topo e la patata. Il 2009 invece, secondo il calendario astrologico cinese, è l'anno del bufal...

Antipasti di Mare - Seafood appetizers Antipasti di Terra - Meat appetizers Stuzzichini - Nibbles Insalate - Salads Drink Alcolici - Alc...

Ingredienti : 500 gr di riso, 2 noci di burro, 1 cipolla, 1 zucchina, 2 dadi (vegetali o di pesce), una decina di gamberi, mezzo bicchiere...

Photo Tour
•
Sagres, Part 2, Portugal
•
Sagres, Part 1, Portugal
•
Lagos, Portugal
•
Portimão, Portugal
•
Crete, Greece
•
St. Patrick's Day, Dublin, Ireland
•
Bettystown, Ireland
•
Capri, Amalfi, Sorrento
•
Marrakech, Morocco
•
Puglia, Italy
•
Eastbourne, East Sussex, U.K.
•
Battersea Park, London
•
Hastings, East Sussex, U.K.
•
Isle of Wight, U.K.
•
Richmond Park, London
•
Venezia, Italy
•
Oxford, U.K.
•
Highgate Cemetery, London
•
Canary Wharf and Greenwich, London
•
Regent's Park, London
•
London Gay Pride 2008
•
The Italian Garden, London
•
Tower Bridge, London
•
Holland Park and Kyoto Gardens, London
•
Urbino, Italy

Published